Have questions regarding recreational SCUBA diving?

has the answers.

The brand new book, , answers more than 115 of the most frequently asked questions regarding recreational SCUBA diving.

was written for the individual inquiring into recreational SCUBA diving as well as the beginning to intermediate diver.
The questions answered in 's 368 pages include:

How safe is recreational SCUBA diving?
What about sharks and shark attacks on divers?
How long does it take and cost to get certified?
Will I get the bends?
Won't my ears hurt when I dive?
Answers to questions asked by women regarding diving?
What is SCUBA diving and what makes it so popular?
Where are the best dive sites in the U.S. (by state) and world wide?
Do I have to be certified to dive?
How do I get certified?
What do I have to do to get trained?
Is it difficult to get certified?
What happens on my open water training dives?
What equipment is needed?
Should I buy or rent equipment? From Whom?
What medical conditions preclude diving?
Do I have to be in great shape or a good swimmer?
Am I too old or too young to get certified?
Can I make a living SCUBA diving?
etc. etc.....

See 's Table of Contents for a full listing of the questions answered.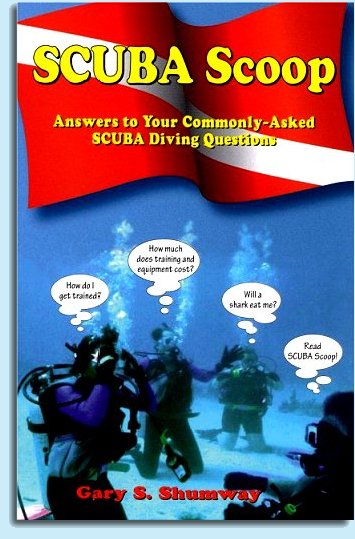 also contains:

a list of certifying agencies,
certification cost check list,
open water equipment check list,
the best places, world wide, for the novice to dive,
the best U.S. dive sites by state (from a survey of 499 U.S. dive shops),
a reference section including SCUBA periodicals,
a diving etiquette section,
a short history of SCUBA diving,
an extensive glossary of terms,
a complete index, and
more than 120 images related to diving.



is not just another training manual.

answers questions...YOUR questions!
Get the whole scoop for only $16.95 USD!
Get

!